Using the Hello Kitty Rainbow emoticon on this site is very simple and you won't have to put in a lot of effort. As you can see they are also free to use as well.
You can add Hello Kitty Rainbow smiley directly to Facebook which is great if you are short on time and want to get them on there as soon as possible. To post an emoticon you like directly onto Facebook then just follow the 3 simple steps listed below.
You can also use them directly on Gmail or Outlook by just clicking the Copy to Gmail or Outlook button on the emoticon you'd like to use. You can even add them directly to forums by clicking the forum button. At Funny Emoticons, we like to make the process as easy as possible for you and hope that you love using the site. Don't forget to share it with your friends, family and loved ones today!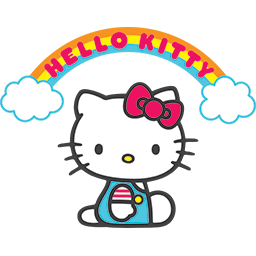 To Use in Facebook:
Click Copy To Facebook button.

Go to Facebook, click on camera icon .

Paste the sticker link URL to the File name field and click Open.
---
To Use in Gmail or Outlook:
Click Copy to Gmail or Outlook button.
Use Ctrl-V to paste sticker to Gmail or Outlook text editor.
---
From unusual hybrids to weird creatures to the ever so cute Hello Kitty, there are all different kinds of funny animal emoticons in this part of the website. They are free to use with no software to download and you can use them as many times as you like as there's no limit either. Use funny animals for email and share them with your friends and family to make them laugh out loud for real. Add funny animals for text messages to your next SMS and make it look cooler than ever, there are lots for you to choose from so you'll be able to find the emoticon that suits you best.